The Khantoke Dinner at the Old Chiang Mai Cultural Center is based around the traditional Thai dinner and dancing show. For the Khantoke dinner guests sit on bamboo mats on the floor and are served a range of northern Thai food to share with the table. The food includes a rich chicken curry and a Burmese style pork curry, fried chicken, sticky rice, vegetables with a spicy chilli dip and the northern delicacy of deep fried pork skin. While you sit and eat a variety of Traditional Thai dances are shown on stage including sword dancing and a popular drum performance.

The Khantoke Dinner costs 520 Baht per person (adult or child) and lasts around two hours. Throughout the show your food is topped up and there is also an option to order beer, soft drinks or whiskey. The Old Chiang Mai Cultural Center can arrange hotel pick up for 100 Baht per person. As well as the main dining area the building has some stalls selling hill tribe handicrafts as well as a display of traditional Thai house design. There Old Chiang Mai Cultural Center is set in a beautiful teak building and also open in the daytime with a café attached to the main building.
Interested in this tour? Book it here.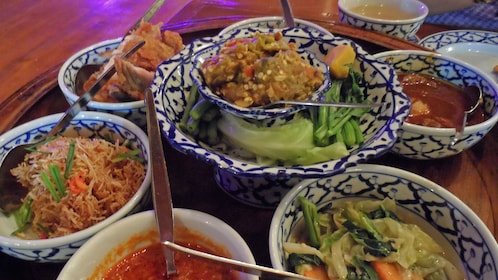 per traveler
Free cancellation
Book
Khantoke Dinner
Opening Hours: 20:00 – 22:00
Location: 185/3 Thipanet Road
Tel: +66 53 202 9935
Price Range: starts from 520 baht
Rate This Place:
( votes)